SPORT HOTEL TICHÁ ORLICE - restaurant
Sporthotel has a non-smoking restaurant /50 seats/ and lounge room /up to 50 seats/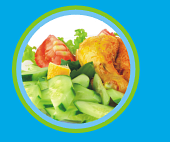 There is a direct access to the hotel terrace with a grill. Grill-parties are held here during summer time.
Access to the restaurant is barrier-free.
Open
:
Mo 10.00 am - 10.00 pm
Tu 10.00 am - 10.00 pm
We 10.00 am - 10.00 pm
Th 10.00 am - 10.00 pm
Fr 10.00 am - 12.00 pm
Sa 11.00 am - 12.00 pm
Su 11.00 am - 09.00 pm
All meals are prepared from fresh food without using oven-ready products.
The menu includes traditional Czech cuisine, low-calorie dishes from poultry and fish and vegetarian dishes.
We offer a children menu to our little guests.
If requested, we can prepare for our guests dishes following special diet rules (diabetic, glutten-free etc.)
We offer full-board and half-board rates (combinations of breakfast - lunch, breakfast - dinner) Our guests can also book accommodation with breakfast only and choose dishes from the restaurant menu.
We can organise wedding parties, banquets and celebrations.

Menu
[pdf]

Baverage menu
[pdf]
» Breakfast
Buffet breakfast is served:
from 7:00 - 9:00 on weekdays
from 8:00 to 10:00 at weekends.
Earlier breakfast can be arranged at the hotel reception.
» Lunch
Selection from five lunch pre-cooked dishes and a wide selection of dishes from an a-la-carte menu.
For sport camps it is possible to arrange a menu for the complete stay.
» Dinner
Selection from 3 main courses.
Dinner is served every day from 18:00 to 20:00
Prices
:
Breakfast CZK 150,-
Breakfast - kids CZK 120,-
Half-board CZK 319,-
Half-board-kids CZK 279,-
Full-board CZK 488,-
Full-board-kids CZK 448,-
» Restaurant, lounge room, childrenīs toy room